In recent years, activism has become a symbol of the newest generation of adolescents. From gun violence prevention to climate change to Black Lives Matter, Generation Z has taken social reform into their own hands. MC junior Inbar Schwartz is similarly making a fashionable statement about the atrocities of human trafficking.
"For the month of December, I'm participating in this event […] called Dressember where advocates can wear a dress or a tie to raise funds and awareness for human trafficking victims," Schwartz said.
Schwartz first discovered the Dressember Foundation after speaking to an old friend of hers. MC alumni, Tessa Tricario, who was participating in Dressember in 2019, encouraged Schwartz to take a stand.
"I saw [Tessa] in a dress and I was like, 'Hey girl, what are you doing wearing a dress in December. It's freezing out!' And she explained to me that this whole thing that she was doing, and I thought that was super cool," Schwartz said. "So this year, she reached out to me again and was like, "Hey, I'm doing it again. Do you want to join my team?' And I was like, 'Yeah!'"
Tricario is also passionate about the cause and she hopes others will begin to educate themselves further on the matters of human trafficking. Tricario was drawn to the organization because of its worthy cause.
"Dressember is the only organization that rescues and then provides care for the victims with things like paying for therapy, losses, etc. Other organizations only pay for rescue missions, and then leave victims out to fend for themselves afterward," Tricario said.
Although Schwartz is well-versed in environmental and human rights activism, she is not as knowledgeable on the subject of human trafficking. However, she hopes to learn more about the effects that human trafficking has on its victims as well as ways to put an end to it.
"I kind of want to use this as an opportunity for myself to learn more about human trafficking because personally, I feel like it's an issue that kind of goes under the radar, many times, because of the taboo surrounding it. I […] wanted to use this as an opportunity not only to raise money and awareness for others but also for myself to educate myself about it," Schwartz said.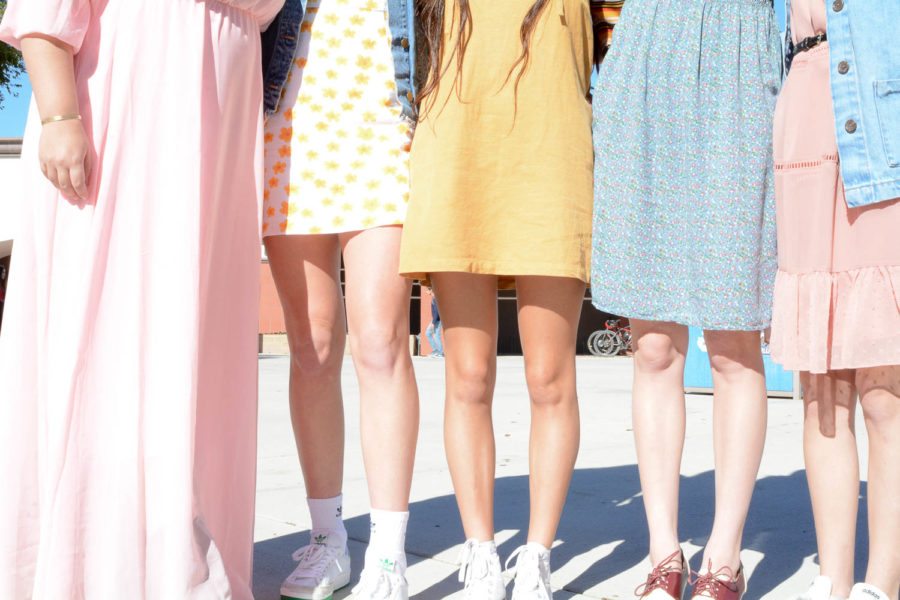 With such a notable cause at hand, Schwartz was determined to put her full effort into it. She has taken Dressember one step further by designing and creating a custom dress of her own.
"I'm a little intimidated by the process of sewing the dress because normally when I do it's just for myself [But] it's just going to be a learning experience […]," Schwartz said. "It's going pretty well so far: I have cut out some of the pattern pieces and cut out some of the fabric. I'm excited to see what happens and to show off this dress."
Since its creation in 2013, Dressember has raised $10 million worldwide. Schwartz continues to wear an assortment of dresses throughout the month of December, hoping to generate interest in helping human trafficking victims among the MC student body.
For more information: https://dressember2020.funraise.org/inbar-schwartz