Seven of Hong Kong's leading pro-democracy leaders have been imprisoned and found guilty due to their involvement in anti-government protests back in 2019. On Apr. 1, leaders, including media tycoon Jimmy Lai and movement veteran known as the "father of democracy" Martin Lee, were convicted by the Beijing government for organizing and participating in a massive protest in Aug. 2020 that was not authorized by the police.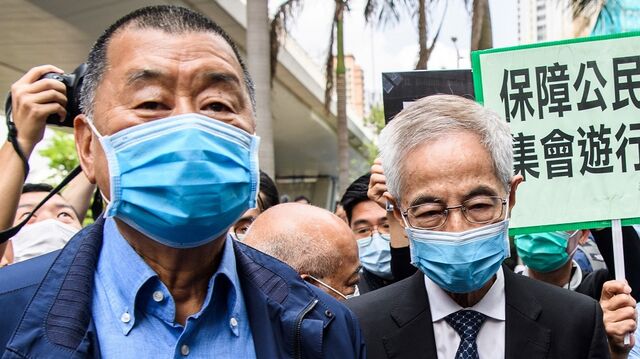 Seen as an appalling attack on civil liberties once enjoyed by the semi-autonomous special administrative region, this verdict has now weakened the democratic movement in Hong Kong. Following the end of its status as a British colony in 1997, Hong Kong was promised by China that it could retain the freedoms allowed by the United Kingdom for another 50 years. However, only two decades later, China has taken measures to ensure Hong Kong remains a Chinese territory.
Lai, Lee, and the other five pro-democracy lawmakers—Margaret Ng Ngoi-yee, leader of the Labour party Cyd Ho Sau-Lan, Hong Kong politician Albert Ho Cun-yan, and long-time activists Lee Cheuk-yan and "Long Hair" Leung Kwok-hung—face up to five years in prison in a ruling handed down by a district judge.
"Shame on political prosecution! Peaceful demonstration is not a crime," said Leung, according to the South China Morning Post.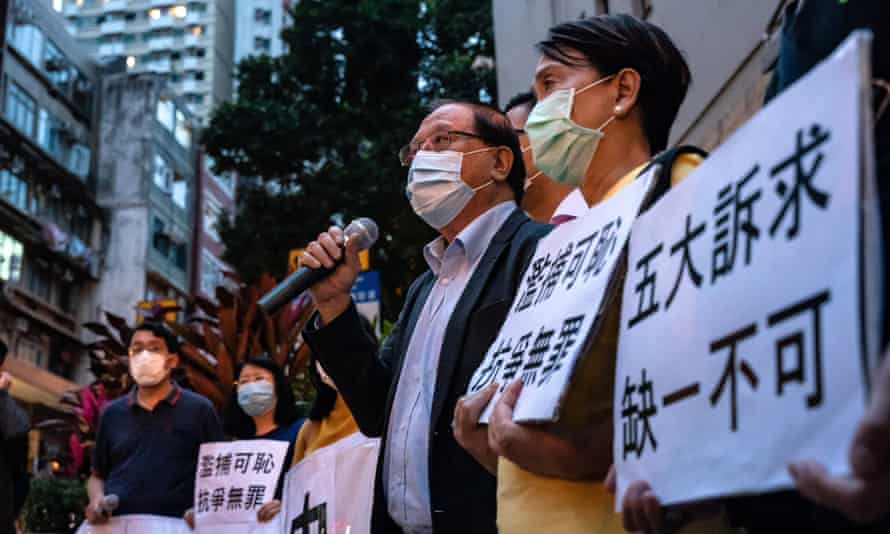 The leaders were officially found guilty on Apr. 16th. Two other former pro-democracy lawmakers, Au Nok-him and Leung Yiu-Chung, both of whom were charged in the same case, had pleaded guilty earlier in Feb., but remain in custody.
The trial focused on what prosecutors claimed was an "unauthorized procession" on Aug. 18, 2019. With hundreds of thousands of people at the pro-democracy rally, it began as an approved demonstration in Hong Kong's Victoria Park; however, it later moved to Hong Kong's Central District, which prosecutors said was an illegal expansion of the protest.
"We will still march on, no matter what lies in the future. We believe in the people of Hong Kong, in our brothers and sisters in our struggle, and the victory is ours if the people of Hong Kong are persistent," Lee Cheuk-yan said.
Lee Jonghyuk, an assistant professor at Singapore's Nanyang Technological University, believes that the Chinese people often intentionally "self-censor" themselves out of fear of the Chinese Communist Party that currently dominates mainland China.
"Most likely, the Chinese Communist Party will destroy social trust among citizens by incentivizing more people on the street to report criticism to the government," Lee Jonghyuk said. "I think that it is too late. China's leadership will never give in to the public. It will never revert their decisions even with the international pressure."
Others such as online influencer Penny Sun, disagree. Sun believes that political figures should be "patriots"; she also has made it clear that she enjoys the increased freedom of modern-day as opposed to the lack of it amid the 2019 "riots," as she described them.
"Hong Kong will prosper and our lives will be more stable," Sun said.
In 2020, Beijing began to tighten its hold on dissent, imposing a new national security law. On Mar. 1st, they amended Hong Kong's Basic Law, or constitution, to almost halve the proportion of directly elected representatives in the city's legislature and to require all candidates to be vetted for political loyalty.
Meanwhile, Lee Cheuk-yan is facing three other trials this year on separate but similar charges.
"I think it's inevitable I will go to jail," Lee Cheuk-yan said. "I think I will be lucky to win one, but the worst case scenario is I will lose all four."
These arrests are a devastating blow to the pro-democracy movement in Hong Kong from the last decade, yet the Chinese government continues to advance its goals to "eliminate all political opposition" in Hong Kong.