Vaccination numbers are steadily rising daily and San Diego County, California has finally moved past the red tier. After many months of staying in the purple tier, in March of 2021, SD moved into the red tier. According to San Diego's County News Center, the mass distribution of COVID-19 vaccinations has profoundly contributed to the state's move from the red tier into the orange tier in early April of 2021.
"San Diego County's state-calculated, adjusted case rate is currently 5.5 cases per 100,000 residents. The County is in the Orange Tier […] and no new community outbreaks have been confirmed since March 28." Jose Alvarez, a health communications specialist of San Diego said.
The state government and corporate hospitals are working together to distribute vaccines safely and effectively.
In 2020, two different vaccinations, Pfizer and Moderna, were distributed globally after being authorized for emergency use by the Food and Drug Administration (FDA). A third vaccine, Janssen by the Johnson and Johnson Corporation (J&J), was approved for distribution in February 2021. All three vaccines have the same goal of slowing the spread of COVID-19, but age determines which one each American can receive.
When the first dose of vaccines came out and was ready to be distributed, healthcare workers had first priority due to being exposed daily in hospitals, as well as other essential healthcare workers. Next in line was anyone 75 or above and anyone else with pre-existing health conditions. Now, all vaccines are available to the public to those ages 16 and above since April 15th of 2021.
Pfizer: To be eligible for the Pfizer vaccine, one must be at least 16 years of age. Anyone under the age of 16 is not yet permitted to receive any COVID- 19 vaccines.
Moderna: Anyone 18 years of age or older is eligible to get this specific vaccine.
Janssen (J&J): This vaccine is the most recently approved shot; it was authorized for mass distribution by the FDA on February 27th of 2021. To receive this vaccination, one must be at least 18 years of age.
Distribution of the J&J vaccine was stopped due to patients reporting the development of a "rare and severe type of blood clot," according to the Texas Tribune. The use of this vaccine was resumed on April 23rd of 2021 by the approval of the FDA and CDC after many meetings and the re-examination of the vaccine's medical background.
Many COVID-19 restrictions in San Diego County have loosened up since the transition to the orange tier. Many restaurants are now allowing indoor dining; consumer stores can hold almost a full capacity of people; the majority of the youth club and school sports are in session; and many schools, from elementary to high school, are allowing a portion of the student body back on campus.
Vaccination centers in San Diego include:
-UCSD
-Sharp Memorial Hospital
-Rady Children's Hospital
-Good Shepherd Catholic Parish and Church
-A variety of different grocery stores and pharmacies, such as Vons, Rite Aid, CVS, Costco, and Walgreens
To receive a vaccination, the patient must figure out which vaccination they are eligible for and schedule their appointment ahead of time. You can schedule an appointment for vaccination on myturn.ca.gov. This site allows you to schedule an appointment at a local hospital or find a walk-in clinic, as well. After filling in in your personal and contact info, you pick a name and a place. Additional information about the vaccines, the vaccination process, and COVID-19 can be found on sandiegocounty.gov.
Additionally, many corporate offices and companies are providing vaccinations for employees.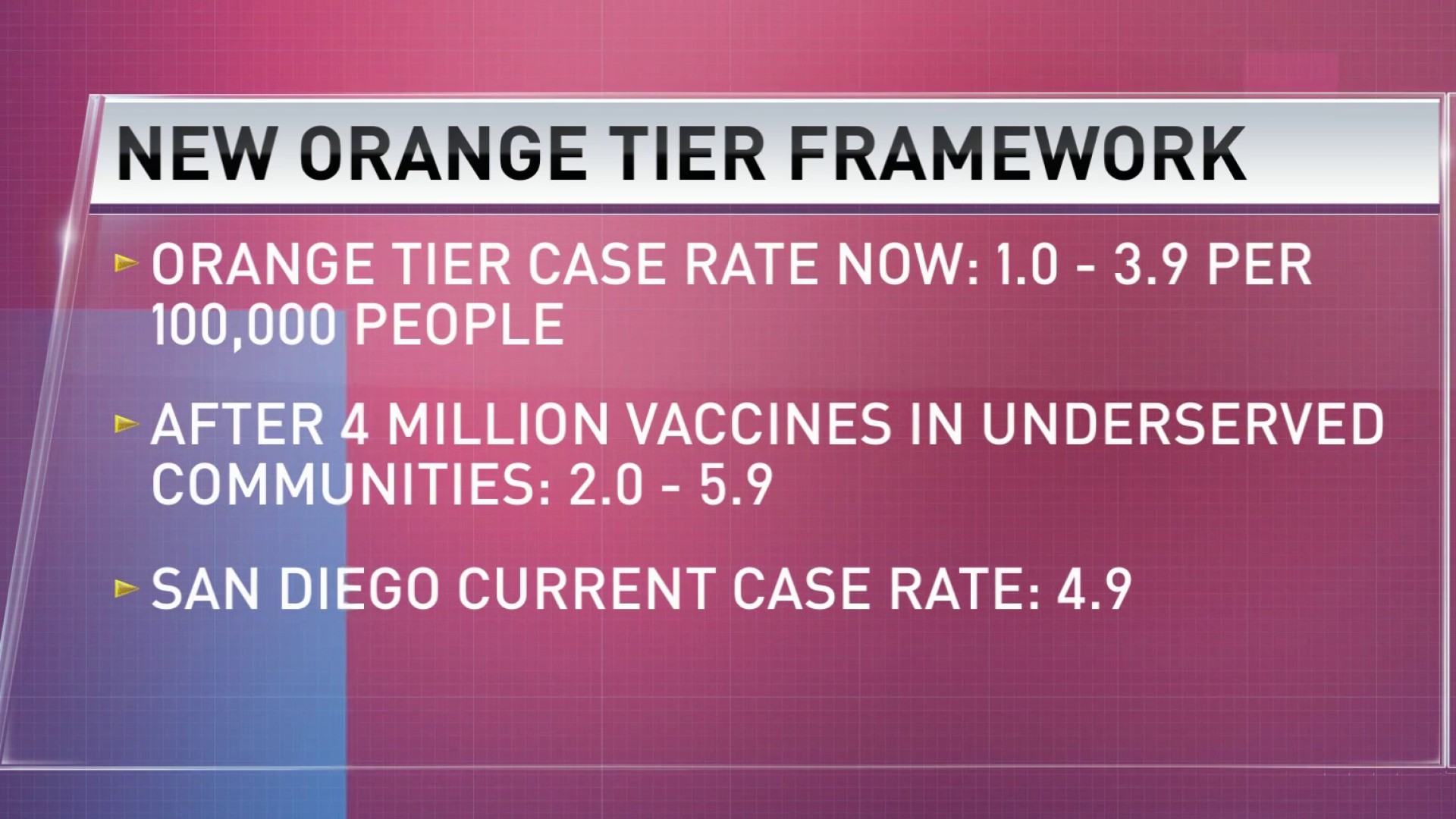 On April 28th, San Diego County reached the one million mark for the number of residents vaccinated.
According to the San Diego Union-Tribune, "[…] San Diego's vaccination counter rolled past 1 million residents fully vaccinated, meaning that nearly a third of the county's population has now received both vaccine doses or just a single Johnson & Johnson shot."
If the vaccination rates keep steady, the majority of San Diego will likely be vaccinated by the end of the year, due to a third of the population being fully vaccinated in San Diego County in 4 months of available treatment.
Finally, after a full year of COVID-19 restrictions, San has reached the orange tier for the first time. Because vaccination numbers are steadily rising, the San Diego case rate will likely continue to decrease. To stay in the orange tier, health professionals recommend San Diego residents follow given COVID-19 guidelines and restrictions, get their vaccinations, continue to wear a mask, frequently wash their hands, and do their best to stay safe.